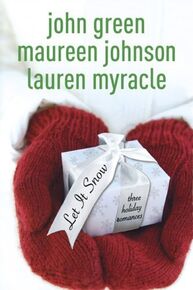 Let It Snow: Three Holiday Romances Is a 2008 novel for teenagers by John Green, Maureen Johnson, and Lauren Myracle.
Characters
Edit
Jubilee: The main character of "The Jubilee Express" was supposed to spend Christmas with her boyfriend Noah, but an unexpected change of plans gave her Christmas a completely different twist. Edit
Stuart: A boy who works at Target. He offers Jubilee to spend the holidays at his house, since her train got stuck in the snow. Stuart later appears at the end of "The Patron Saint Of Pigs" alongside Jubilee.
Tobin: The protagonist of "A Cheertastic Christmas Miracle". Not really caring for the cheerleaders but deeply to have an adventure, Tobin and his friends go in an adventurous trip to the waffle house where he founds more than just heat from the snow. He ends up dating The Duke, who he realizes has feelings for. Tobin appears also appears on "The Patron Saint Of Pigs" alogside The Duke.
The Duke: Real name: Angie, Tobin and J.P.'s tomboyish best friend. She at first dissagrees with the idea of the waffle house and the cheerleaders, but eventually agrees when Tobin tells her that there will be hash browns. It's later revealed that Duke has feelings for Tobin and wanted to have an adventure with him. She and Tobin eventually kiss outside the waffle house and begin dating. She also appears with Tobin on "The Patron Saint Of Pigs".
J.P.: Tobin and Duke's best friend
Addie:  She is depressed because Jeb, her boyfriend, broke up with her a day before Christmas. 
Jeb: Addie's boyfriend (well, ex boyfriend)
PloThe Jubilee Express
Edit
Written by Maureen Johnson. The story stars Jubilee, who was suposed to spend christmas with her boyfriend Noah, however after her parents are sent to jail because of a fight on a store. She is sent to spend christmas with her grandparents. On her way to her grandparent's house, the train get's stuck on the snow, which forces her to go outside into the snow.
A Cheertastic Christmas Miracle
Edit
Written by John Green The story starts with Tobin and his best friends J.P and The Duke, watching a James Bond marathon in the middle of the worst snowstorm in the last 50 years. The gang get a call of their friend Keun(who is working out late on a waffle house), that there are 14 Pensylvenian cheerleaders in the waffle house. Thus begin the three best friend's adventure.
The Patron Saint Of Pigs
Edit
Written by Lauren Myracle The story stars Addie, who is feeling depressed because of her recent break up just the day before christmas. But shows the reader that even true love can be found again, even if the day must start with a painful morning shift on Starbucks.